Meet Paul Gerrits, director Pellikaan Germany
Paul Gerrits has been director of Pellikaan Germany since 2012, but his Pellikaan career dates much further back. After completing his studies in Construction, he worked for an architectural firm until he started as design manager for Pellikaan. His wide experience and ambitions later gave him the opportunity to lead our German division.
But who is Paul Gerrits? No doubt his open character is characterises him, Paul is a real people-person. If you meet him, he will always be happy to talk to you. In Dutch or English as well as in German, because after all these years he also speaks the latter fluently. The funny thing is that Paul used to be really bad at languages. "Teachers wouldn't believe it if I told them that I speak German fluently," he says, laughing.

Why Germany?
It simply came his way. Paul has done projects for Pellikaan in England as well as in the Netherlands, Belgium and Germany, but he feels most at home in Germany. "The mentality, the way of working and the people suit me and when you have been working in a country for such a long time, you grow into it," he explains.
Spare time: cars and DIY
In his spare time Paul is basically always busy. He likes cars, DIY and travelling. These hobbies came together nicely when he decided to convert an old van into a self-supporting camper van – including solar panels, drinking water supply and roof hatch. Paul did everything himself and successfully: the camper was approved by the vehicle registration authority. "The camper van now gives me the freedom to travel corona proof," he says.
He experienced this freedom before, when he participated in the Baltic Sea Circle in 2018, a rally from Amsterdam to the North Cape and back, via Germany, Sweden, Norway, Finland, Estonia, Latvia, Lithuania and Poland. "In 18 days I drove no less than 9,000 kilometres with my 25-year-old Volvo 240. Without GPS and not using the motorways. For a real Volvo addict like me, an ultimate experience!"
Paul's wife, with her foundation 'The Noble Hoeve', takes in neglected animals and those rescued from slaughter. By now, there are quite a number of animals in and around the house, including two bulls, sheep and some pigs. "A busy affair at our house," laughs Paul. "So you see, I don't have time to sit still at all!"
By the way, the house is a 100-year-old farmhouse that Paul completely rebuilt himself 7 years ago.
Book 'Das neue Bauen mit BIM und LEAN'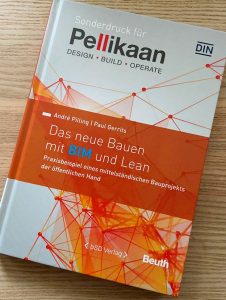 The fact that Paul is a jack-of-all-trades is demonstrated by the fact that, in addition to all the things he already does, he also writes books. Not that he is a writer by nature, but he likes to take on new challenges. And if something nice comes his way, he grabs it with both hands. As he did in this case. "During a trade fair in Munich, together with André Pilling (POS 4 Architekten) I got into a conversation with the publisher Beuth Verlag, who asked: "Why don't you just write a book about your projects, to complement the first book André has written?" André and I both felt that that was a good idea straight away."
And so 'Das neue Bauen mit BIM und LEAN' was born, a book aimed at the German construction industry and recently released on the German market. "The book gives a good insight into how both methods are currently implemented in our teams. We want to show that you can also achieve very positive results on small (medium-sized) projects if you apply BIM and LEAN methods," explains Paul. "In all our Design & Build projects in the Netherlands, Germany, England and Belgium, we notice the benefits of this, whether they are schools, sports centres, swimming pools or commercial spaces."
Many guest authors have been invited to write the book, in order to view the methods from multiple perspectives and to apply a broad knowledge. It has been a year-long process, the last few months of which have been very intensive. But hard work pays off: the first print run consists of no less than 1500 copies! "What I also want to pass on to the readers is one of the last sentences of the preface: 'Learning by doing'. Take that first step and start doing new things, like digitising," says Paul.
He continues: "As a family business, it is in our DNA to think up and implement new concepts all the time. We are in a flow of continuous improvement, which applies to all our processes. As Roy Pellikaan also says: 'I want to take this company to the next level, by introducing an agile working method and further digitalising our processes'. I fully support that."
Order the book?
Interested in the book 'Das neue Bauen mit BIM und LEAN'? Please contact us for more information. Note that it is available in German only.