Meet our intern Kirsty Walker
For over a year Kirsty has been a great addition to our team in Wokingham, working on the new Carnival Leisure Centre and Library. Our internships give students a real-world experience. Kirsty gained hands-on experience in all aspects of construction.
We asked Kirsty some questions about her internship and experiences at Pellikaan.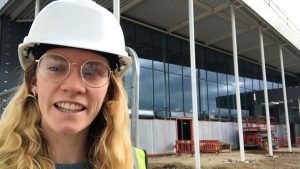 Can you introduce yourself? Who are you?
My name is Kirsty and I am 21 years old. I am currently studying Architectural Engineering at Loughborough University and I grew up in Reading. My hobby is keen runner and swimmer. Before I was working for Pellikaan I was a lifeguard.
Why did you want to work in the construction industry?
I think it will be great to be able to walk by a building and know I had an influence on it being built. Growing up in Reading, the leisure facilities were old and in poor condition. It is fantastic to be part of a company working to improve things for my local area.
My dad was a naval architect, as a child I was surrounded by his drawings and details. I think this is where my desire to work in construction stems from.
How did you end up at Pellikaan?
As part of my university course, I have to work in the industry for a year. I previously worked as a lifeguard at the Rivermead Leisure Centre. When I heard Rivermead was being rebuilt, I did some research and found out Pellikaan were the contractor working on it. Originally, I was going to be working on the Rivermead project; however, because of Covid-19 this project was delayed, and I was placed on the Carnival project in Wokingham.
Can you tell us what you learnt during of your internship?
I am working on the Carnival project which is a leisure centre and library. The building has two swimming pools, a spa, a gym, studios, a sports hall, and the library. I am working with the design team, helping to coordinate drawings with the team on site. I have learnt to use lots of new programmes and my CAD skills have improved. I have learnt a lot about roofs and checking the quality of workmanship. I have been challenged by the task of coordinating the designs of the many different subcontractors involved in the project.
 What is your contribution/task within the team? What kinds of work interest you the most?
I comment on drawings and check the 3D model is kept up to date by subcontractors. I keep minutes in all the internal meetings. I enjoy seeing the drawings and details being used onsite. As this is my first project, some of the drawings are hard to understand until I see the final product on site and get my head around how things fit together in real life.
What does your workday look like and how do you prioritise your work?
I am on site every day, which I really enjoy because I get to see how the building is progressing. I work closely with the site team and help them to find the drawings they require or chase up missing information. I communicate regularly with the architect and subcontractor designers, to ensure the design is moving forward.
I prioritise my work by what is next required on site, this helps to avoid delays.
Which advice would you give a new intern?
Ask lots of questions, and do not be afraid of asking people to repeat things if it does not make sense. An internship at Pellikaan is interesting, hectic, and satisfying. But just the team is very supporting and gives you lots of guiding.
Kirsty, thank you for your interview and your commitment working on our Wokingham project. We wish you good luck with your next step!