Meet Majdouline Moustakim: an administrative jack-of-all-trades
Majdouline (39) was born and raised in Tangier, one of the oldest cities in Morocco. When she was nineteen, she moved to the Netherlands. Here she married her husband and together they got two sons. She ended up at Pellikaan by chance. She was given a temporary assignment in the financial administration department: "I immediately felt at home at Pellikaan. Two years later I was called and asked if I wanted to work in the English department. That scared me, because English was not my strongest suit", she explains. "Still, she decided to go for it. "I took an English course and learned the language by practising it on the phone or by e-mail."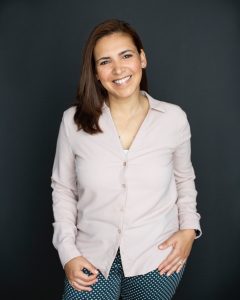 In the meantime, we are already 6 years on and Majdouline is a strong link within the team. Together with Nicole, she takes care of project administration for Pellikaan UKHer activities there are diverse. Among other things, she processes the costs of materials used, monitors contract and project budgets and identifies deviations. What makes her work so special? "The fact that I am involved in the projects from start to finish. We are a close-knit team. Every year I get to go to the Christmas party in England (unfortunately not this year) and I usually go on a working visit to one or two projects. I think it is great to see a project in real life," she says.
It is certainly not standard work in project administration. Majdouline explains that there are more mutations in this department than normal. "This depends on the contract agreements made with our clients. There is a lot of variation in processing the data. Every week has its challenges and every day is different." Fortunately, she is in a great team and the colleagues support each other where necessary. The department consists of five project administration staff and, in the event of peaks, each other's work is absorbed. According to Majdouline, Pellikaan is an "intimate family business with very nice people".
Of course, the hard worker also needs to relax now and then. She hopes that after the Covid period she can visit her family again in Morocco. "Asia is also very high on my bucket list. I would love to go snorkelling in a clear blue sea," she says enthusiastically.
Majdouline, thank you for the nice conversation and we hope you will enjoy working at Pellikaan for many years to come. Keep on track!